Americans are still not preparing for retirement through savings, despite improved economic conditions that should allow them to do so. A boost in the economy that has made it easier to contribute to retirement savings plans is falling by the wayside as many Americans say they are saving the same amount, or sometimes less, than they did last year. 
Just 18% of working Americans are saving more today than they were in 2012, while 17% are saving less, according to a survey published by Bankrate. More than half say they are saving the same amount as last year. 
The results are virtually identical to last year's survey results, Bankrate found, noting a "troubling" trend. 
"This is troubling considering the availability of catch-up contributions for those 50 and up, as well as the higher 2013 contribution limits for all eligible IRA and 401(k) contributors," said Greg McBride, Bankrate.com's senior financial analyst.
Demographically, 21% of upper-middle-income households are saving less this year, with just 14% who are saving more.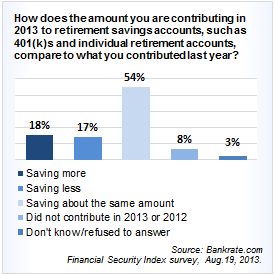 Overall, the financial security index tracked by Bankrate shows improvement over last year, although financial security is down for the second consecutive month. 
Written by Elizabeth Ecker
Companies featured in this article: