Mather LifeWays recently celebrated the grand opening of The Mather, a new continuing care retirement community in Evanston, Illinois.  The celebration caps six years of planning and development for the one of the more recently constructed CCRC's in the Chicago Area. Residents of The Mather began moving into the recently completed north building in early October and construction of the second building will begin early next year and open in 2011.  The buildings will include 101 apartment homes as well as a 10,000-square-foot fitness center complete with a 20-meter indoor lap pool, whirlpool, sauna, steam showers and day spa connected by a convenient, climate-controlled underground corridor. Mather LifeWays is pursuing Gold Leadership in Energy and Environmental Design (LEED) status for the second building.  The Mather was recently named the 2009 Masonry Construction Project of the Year by Masonry Construction Magazine, representing the "best of the best" in masonry construction across the country. Last year, The Mather was named the nation's "Best Proposed Continuing Care Retirement Community" by the National Active Retirement Association.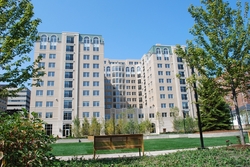 "We have already received deposits for almost 50 percent of the apartment homes in the second building," stated Mary Leary, President and CEO of Mather LifeWays. "The response to The Mather has been tremendous — from the new residents, the City of Evanston, and the neighborhood."
"The Mather is a welcome addition to the downtown neighborhood as well as the entire City of Evanston," said Elizabeth Tisdahl, Mayor of Evanston. "The fact that it has succeeded in the face of a tough economy is a great example of good planning and following through on their commitments."