The U.S. division of Sun Life Financial Inc. (NYSE:SLF, TSX:SLF) released the latest edition of its Unretirement℠ Index, which reveals 65 percent of American workers will delay their retirement by at least one year – an 11 percent increase since the end of 2008.  THe research released shows Americans plan to remain in the workforce past the traditional retirement age of 67. Fifty-five percent of those surveyed say they will work full- or part-time at 67, and another new high of 28 percent of US workers across all age groups are planning to work full time past the age of 67.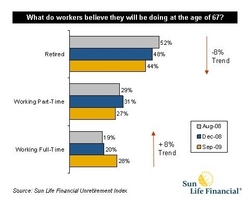 Only 28 percent of working Americans are now very confident that they have done a good job preparing for retirement. In addition, only 22 percent are very confident that they will be able to take care of medical expenses and less than half (40%) are very confident that they will have enough money for basic living expenses in retirement. Overall, less than one in four workers are very confident they will be able to live the kind of life they want in retirement.
"Our latest Unretirement Index results show a watershed transformation over the past year in the way people regard work and retirement," said Wes Thompson, President of Sun Life Financial U.S. "The notion of Unretirement has become a reality for a majority of workers who increasingly see working in their later years as a necessity instead of a luxury. The Unretirement Index also shows how lower levels of confidence are affecting the American psyche and psychologically explain why Americans are making these decisions that impact our society."
The motivations for working past traditional retirement age have also evolved over the life of the Index. A year ago, the top reason cited for working past the age of 67 was "to stay mentally engaged." Today, the most popular reason is "to earn enough money to live well," cited by 84 percent of Americans. Subsequent reasons remain "staying mentally engaged" (81%), "I love my career" (65%), and "for health care benefits" (63%). In addition, 58 percent of American workers are planning to work past age 67 because they don't believe social security will be available – an 11 percent increase in the last year.