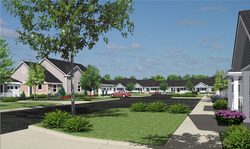 The NRP Group recently announced it is the first recipient to receive Tax Credit Exchange (TCE) housing funds through the American Recovery and Reinvestment Act (ARRA) in Ohio. The Ohio Finance Agency (OHFA) announced the allocation to North Central Village in Columbus, a 74-unit affordable senior community situated in 12 one-story buildings that replaces a blighted mobile park on the east side of Columbus.
NRP has joined forces with MiraCit Development Corporation, a neighborhood based nonprofit organization to develop North Central Village as part of an overall revitalization plan for the Mock Road neighborhood. The development will act as a cornerstone to the neighborhood's redevelopment activities which include 344 residential units.
"This project was truly an overall community plan. It is a milestone for everyone–those individuals who have been suffering from the blight, the City of Columbus, MiraCit Development Corporation, our co-developer, Ohio Capital Corporation for Housing, US Bank, as well as The NRP Group," said Ken Outcalt, Sr. Vice President Development, The NRP Group LLC. "North Central Village is a critical component to the city and a local urban revitalization effort as it replaces blight with new, high quality, affordable senior housing."
"Our efforts to revitalize and strengthen Ohio's neighborhoods and communities have been bolstered by the stimulus funding created in the American Recovery and Reinvestment Act. We have utilized this opportunity to maximize the financial support necessary for the development of affordable housing," said Doug Garver, Executive Director of the Ohio Housing Finance Agency. "We are working closely with the NRP Group to develop North Central Village and are pleased to have awarded them the first assistance through the Tax Credit Exchange program in the state. When the facility is completed, members of Columbus' senior community will have access to safe, quality affordable housing they can proudly call home."