Last week, the NRP Group celebrated the grand opening and and that it recently received the LEED Homes for Gold target performance rating from the U.S. Green Building Council (USGBC) nationally recognized LEED (Leadership in Energy and Environmental Design) green building certification program for Cornerstone Senior Apartments. The certification demonstrates the building is environmentally responsible, profitable and a healthy place to live and work. Located at 18221 Euclid Avenue, Cornerstone is a three-story apartment community comprised of 50 units in Phase I of construction.  The LEED building certification program provides third-party review and certification of a building's design, construction and performance as it pertains to green and sustainable practices. These practices include energy efficiency, water efficiency, materials and resources use, sustainable site development and indoor air quality and enhance the living quality for residents.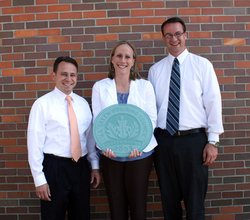 "This 60,000 square foot building is one of the largest Gold certified LEED project awarded," says Mike Ekis, Construction Project Manager, NRP Group. "There are different categories within the LEED certification program with multiple items that are achieved. Some are pre-requisites and other items under NRP's green commitment standards are optional such as bio retention, low flow fixtures and advanced Energy Star lighting packages."
NRP is utilizing pre-cut studs using less lumber in construction. Due to the engineering of the framing, the floor trusses can be spaced further apart. Construction debris is also recycled from the construction site. "We recycle 92% of the construction debris. Drywall and lumber is recycled and is being re-used," says Ekis.
"We believe Cornerstone Senior Apartments represents the first multifamily LEED certified Gold project awarded by the U.S. Green Building Council in the Midwest. Residents benefit from a true mixed use development with a number of amenities within walking distance of their home," said Aaron Pechota, Vice President, Development, NRP Group. "Cornerstone Senior Apartments represents an architecturally impressive and functionally efficient structure providing fantastic indoor and outdoor leisure areas that add to the fabric of this mixed-use development," said Pechota.