Tradition Senior Living, LP recently announced its plans to develop a full-service retirement community in a resort-style setting in Sugar Land, Texas. Set to open in mid 2011, the Tradition-Sugar Land will be the first Continuum Care Retirement Community (CCRC) in southwest Houston and eastern Fort Bend County and will incorporate accommodations for independent and assisted living residents, including those needing memory care.  The community will be located in the master-planned community of Lake Pointe Town Center, a mixed-use development in First Colony.  Planned Community Developers, Ltd., developer of First Colony, a 9,700-acre master planned community located in Sugar Land, will sell Lake Pointe West to Tradition pending approvals by the City of Sugar Land.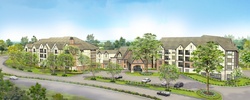 "The addition of a full-service CCRC completes the master plan of Lake Pointe, which offers a live, work and play environment for all age groups," said Don Janssen, senior vice president of Planned Community Developers. "Other retirement facilities have been constructed in and around Sugar Land, but none provide the level of quality or range of services offered here."
"Tradition Senior Living is committed to offering its residents the best value in senior living in Texas," said Jonathan Perlman, president of Tradition Senior Living, LP. "It is our attention to detail and five-star service that set The Tradition properties apart from the competition. Nowhere else offers more square footage per dollar."